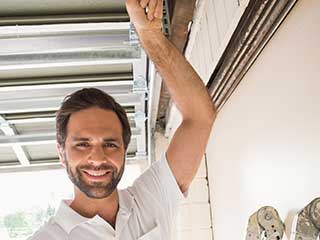 Our company specializes in repairing every type of garage door related issue that homeowners can end up experiencing. We are experts at replacing broken components and repairing opener related problems of both electrical and mechanical origins.
Broken Cables and Springs
Whether is a torsion spring that suddenly snapped or the safety cables that secure the extension type ones in place that broke, you can count on our team to handle it. We know exactly how to remove and install these components without jeopardizing anyone's safety. Due to the inherit dangers involved in trying to repair something that operates under so much tension, it's always best that you leave things up to professionals.
Problems With the Tracks
These components are intimately involved in the movement of your door. If their condition deteriorates, the system's operation will be negatively affected. Our technicians can realign them when they lose their position, and straighten out any bends that may be forcing them to make annoying grinding noises while the door is moving.
Emergency Assistance Available
We understand that while most cases can wait, some require immediate attention, which is why we provide our customers with emergency repair services. We'll get to you in as short a time as possible and immediately start resolving your issue as quickly as we can.
You Can Count On Us
No matter what type of problem you find yourself dealing with, our experts at Garage Door Repair Highland Park can provide you with the perfect solution. We deal with components made by all of the industry's leading name brands, as well as cheap counterparts that may not have as commonly available replacement parts. No matter how complex the problem at hand seems to be, our professional technicians have all the experience and skill they need to be able to handle it flawlessly. Call us today.
We also offer:
Roll up Garage Door Maintenance
Genie & Liftmaster Garage Door Openers
Torsion Spring Replacement
Garage Door Remote Clickers