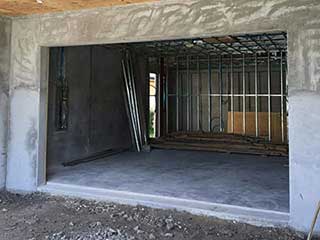 No matter what type of garage door opener you have, you can get it maintained. This type of service can allow your door to last for much longer, and decrease the frequency in which repairs will need to be conducted. Our technicians specialize in taking care of overhead door systems of every make and model, and we'll be happy to help you set up a scheduled routine.
Regular Spring Adjustment
As the hardest working parts of your door, the springs require some extra care. These components carry the weight of your panels, and therefore their tension must be properly distributed at all times. Otherwise, they'll end up overstraining themselves, and will break prematurely. Adjusting these components can be very dangerous, and it should only be performed by highly skilled technicians. Someone, say, like our team.
Tracks and Cables
Tracks are in charge of guiding the movement of your door, and cables are responsible for supporting its weight, similar to the springs. Both of these parts need to be regularly inspected in order to make sure that their condition remains optimal. If our technicians find anything wrong, for example, if your track has developed some dents, or if your cables have become too frayed, we'll repair them on the spot, or get them replaced. By allowing our team to keep track of the condition of every part of your system, you're effectively making sure that the great majority of potential accidents will be nipped in the bud.
Safety Sensors Tests
Your opener is the device that's in charge of the automatic operation of your door. It is equipped with a pair of photo eye sensors that are installed on each side of the door's threshold. If these eyes aren't properly aligned, they can fail to detect an obstacle and won't tell the door to reverse. Needless to say, this is extremely dangerous, and therefore testing these sensors on a regular basis is incredibly important. These are delicate components, so realigning them requires an expert's careful touch.
Count On Us
Contact our team at Garage Door Repair Highland Park to schedule a maintenance appointment that will ensure your door system is in the best possible condition it can be. Call us today.
You can also count on us for:
Garage Door Safety Inspections
Genie & Liftmaster Opener Repairs
Emergency Broken Spring Replacement
Broken Garage Door Track Repair