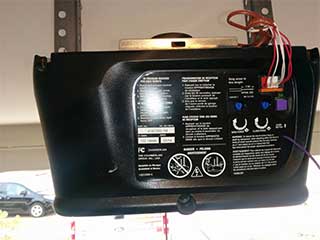 An opener is the device that allows you to use your door automatically without having to do anything more than press the right button. It is an electro-mechanical device, and as such, can suffer from a variety of different issues.
Motor Gear Problems
The gears are the main mechanical hardware parts of the opener. The regular usage of this unit gradually takes a toll on their condition, and they will wear out, and may even end up breaking eventually. Our technicians can help you when that happens. We'll repair these crucial components, or replace them if their condition becomes too bad.
Circuit Board Issues
The main electrical part of your opener is the circuit board, which connects all of the electrical wiring in one single hub. Sudden power outages, and just the rattle and shake of daily use can fry sections of this important part, or cause some wires to become detached. Our team can take care of problems of this type and restore your opener's operation on the spot. We also perform safety sensors testing during our regular maintenance appointments, and can realign your opener's photo-electric eyes if they lose their position.
Types and Features
While most of the modern openers available today belong to one of three main types, the various brand names that you can choose from each use different proprietary features that can better ensure the safety and security of your home. Whether you have your eye on a powerful chain-drive model from Genie, a silent belt-drive unit from LiftMaster or a reliable screw-drive opener made by Clopay, our experts can consult you on what special features and upgrades you may want to consider.
We're Here to Help
You can count on our experts at Garage Door Repair Highland Park for help whenever you find yourself dealing with any type of opener-related issue. We can install a new unit for you and even perform regular maintenance that will make sure it is able to live up to its full potential. Call us today.
But wait, there's more! We also offer:
Part Replacement & Repair
Remote Opener Clicker Replacement
Torsion Spring Adjustment
Track Replacement & Repair